How to Write a Press Release in 7 Easy Steps (2020 Update)
Note how the media release also follows the inverted pyramid formula well. At the start of the article, it distills the purpose of the robot into very easily understandable terms.
It's only towards the end of the article, after you've got a good idea of what the robot is, does it go into the technical facts and details.
3. Emergency Announcement Press Release
The first thing that strikes you about this press release example is how it's about something urgent – it focuses on something that's currently going on. It also focuses on something with an obvious social and emotional impact for a reader.
The body follows the inverted pyramid formula and includes a relevant quote as well.
However, unlike other types of press releases, this official statement includes the contact information within the body itself. 
Usually, this break in structure wouldn't fit very well, but with the topic at hand, this is important information that deserves to be presented higher up in the press release.
4. New Hire Press Release
One important thing to keep in mind when crafting a new hire press release is that you mention the name of the individual and the designation they hold in the title itself.
This is especially important as the core of this official statement is condensed into those two points:
Who is being hired?
What's their role going to be?
Using the lead to note down the qualifications and past achievements of the individual is also a good idea. It gives reporters and editors better understanding of the individual's background and why this hire is noteworthy.
5. Award Announcement Press Release
When it comes to awards there are three key aspects:
Who won?
What was the award?
Who gave the award?
Any press release that's about awards should keep these three aspects front and center. Ideally, all three of those components should be answered by the time the lead is up, as is done in this event press release.
Note: These five press release types aren't the only ones out there. 
Sometimes you'll need a social media press release to appeal to social media influencers and bloggers. Sometimes you'll need a music press release template for certain events. 
The list goes on! 
Just use these examples we listed here as a guide to what usually works.
Best Practices to Follow When Writing Press Releases
Here are some key things to keep in mind when writing press releases for maximum media coverage.
1. Define Your Goals
When writing press releases, ask yourself – "What am I trying to achieve out of this?"
Is it boosting your social media following? Building brand awareness for a crowdfunding campaign? Tapping into physical media like newspapers?
It's important to identify this at the start because, in order to reach each of these goals, you'll have to adopt different strategies. 
Remember a crowdfunding press release for a new innovation will look a lot different than a nonprofit press release looking for donations!
2. Put Yourself In Their Shoes
Remember, you're writing a press release for journalists. So when you're writing a press release, you'll have to adopt a journalistic style of writing.
How do you do that? 
By thinking like one.
Journalists go through hundreds of pitches every day. The last thing they want to do is sift through tons of sentences to find out if it's relevant. 
If relevant information is easily accessible in the title and lead, they're more likely to give it a chance.
Also, remember that they're not public relations[14] professionals or influencers on social channels. That's why it's a good idea to keep your press release writing factual – not exaggerated.
3. Target the Right Beat
I cannot stress how important this is.
You could have the greatest media release ever, but if your sales pitch goes to the wrong journalist or publication, you're going to go nowhere.
There are two things to keep in mind when you're about to pitch your press release:
Whether the journalist or publication you're pitching to covers the area that your product or service is involved in
Whether the people who read their work align with your target audience 
Think about it.
Can you imagine a book press release being sent to a publication who exclusively deals with music? 
Their reader base isn't going to align with your target audience!
You can find out more about how to pitch to the right journalists and publications here[15].
Dmitry's take
To find high quality prospects easily, use JustReachOut as it gives you a list of journalists who have written about your specific topic, not just publishers.
When you search for your target keyword in JRO[16], the software shows a list of journalists and bloggers along with their contact details.
You can then send them an email pitch directly through JustReachOut.
Implement this tactic right now with our software.
When Should You Send a Press Release?
Just like in social media marketing, the timing of your content plays a huge role. The time you release a press release can make or break your chances of success.
You would ideally want to send a press release at a time when it can get the most exposure. Ideally, your press release should arrive at a time when reporters and editors are willing to go through it.
Here's a handy infographic about when you should send a press release for maximum media coverage: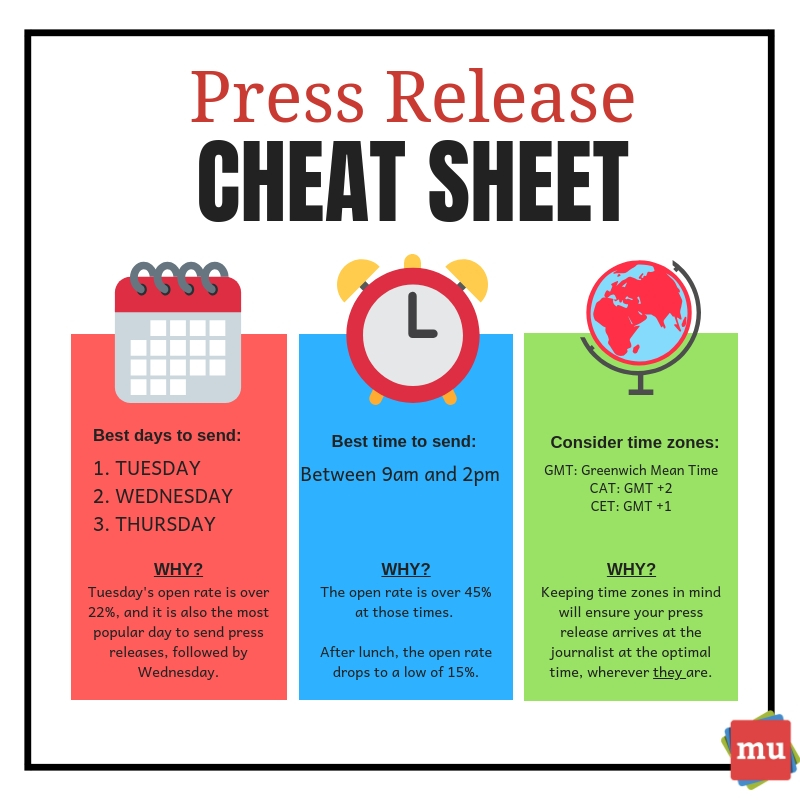 Examples of Actual Press Releases
Here are a few examples of good press releases:
1. Product Releases
Bain & Company Launches NPS Prism, A New Business To Help Companies Create Game-Changing Customer Experiences[19]
Marathon Brewing Releases Signature Beer, 26.2 Brew, Nationwide[20]
2. Partnerships
Curacity Partners with CitizenNet to Turn Instagram into a Measurable, Revenue-Driving Platform for Hotels[21]
Waterford Hotel Group and Waterton Forge Partnership to Grow Hospitality Footprint[22]
3. Awards
Autosoft Recognized as a Best Place to Work in Pennsylvania Five Years Running[23]
American Management Association (AMA) Named to 2019 Training Industry's Top 20 Leadership Training Companies List[24]
4. New Hires
PolyOne Board Elects Dr. Patricia Verduin as Director[25]
ICF Appoints Mark Lee to Lead Public Sector Group[26]
5. Technical Releases
ProcessPro ERP Releases New Cultivation Management System[27]
Collateral Analytics Launches A New Commercial Automated Valuation Model[28]
How to Distribute Your Press Release
You can distribute your press release by personally sending it to journalists and news outlets or using a press release distribution service:
1. Distributing Personally
This method is more time consuming and requires you to have a list of established contacts for press coverage.
The upside to this, however, is the ability to personalize your pitches and build valuable contacts with people in the press industry. 
Keep in mind that personalizing your pitches and using LinkedIn, Twitter or Instagram DM to pitch your business[29] to journalists is a unique and overlooked way to get your note seen and opened by journalists and bloggers.
So while you might default to pitching over email, don't forget the power of DMs and social media.
Dmitry's take
While it can be complicated to manually create an email pitch campaign which is personalized for individual journalists, you can use a service like JustReachOut[30] to make the process hassle free.
Our software allows you to find the relevant journalists and send out targeted email pitches in small, curated batches with careful follow ups.
It also tracks email pitch activity and notifies you of opens, clicks, scrolls and responses from journalists. You can use it to tweak your email message for higher success.
Implement this tactic right now with our software.
2. Press Release Distribution Through a Syndication Service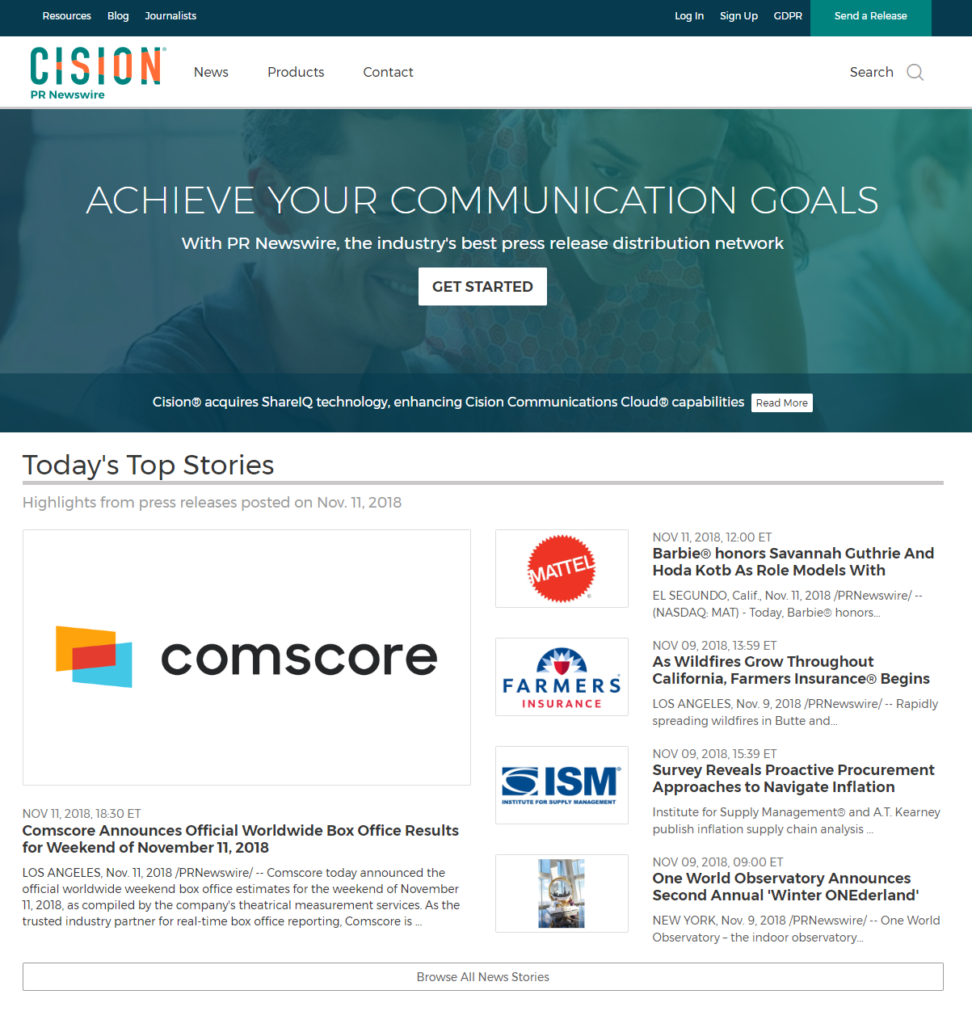 When you use press release distribution services like PR Newswire[32], it distributes your press release to thousands of news agencies, TV stations and major networks instantly.
The downside to using distribution services that you miss out on the opportunity to connect personally with media contacts and build relationships. 
Additionally, this press release distribution method is costly as it usually costs $150- 300 per release. If you're looking for a free press option, this is NOT the route to take!
Send an email pitch to a journalist right now with JustReachOut.[33]
Over to You
There you have it.
You're now armed with all the knowledge you need to craft the perfect press release that'll blow the socks off any journalist.
It isn't easy by any measure, but it's certainly doable.
So go ahead and follow these steps to get the media coverage you know you deserve!
As promised, below is the free press release template for four different occasions to make the job easier for you! 
Free Press Release Template Examples
Here are 4 sample press release examples that you can use right away.
Just copy them into Google Docs or Microsoft Word, add your information, and you're good to go!
1. Product Press Release Template
2. New Research Finding Press Release Template
3. Award Announcement Press Release Template
4. New Hire Announcement Press Release Template
Source URL: Read More
The public content above was dynamically discovered – by graded relevancy to this site's keyword domain name. Such discovery was by systematic attempts to filter for "Creative Commons" re-use licensing and/or by Press Release distributions. "Source URL" states the content's owner and/or publisher. When possible, this site references the content above to generate its value-add, the dynamic sentimental analysis below, which allows us to research global sentiments across a multitude of topics related to this site's specific keyword domain name. Additionally, when possible, this site references the content above to provide on-demand (multilingual) translations and/or to power its "Read Article to Me" feature, which reads the content aloud to visitors. Where applicable, this site also auto-generates a "References" section, which appends the content above by listing all mentioned links. Views expressed in the content above are solely those of the author(s). We do not endorse, offer to sell, promote, recommend, or, otherwise, make any statement about the content above. We reference the content above for your "reading" entertainment purposes only. Review "DMCA & Terms", at the bottom of this site, for terms of your access and use as well as for applicable DMCA take-down request.
Acquire this Domain
You can acquire this site's domain name! We have nurtured its online marketing value by systematically curating this site by the domain's relevant keywords. Explore our content network – you can advertise on each or rent vs. buy the domain. Buy@TLDtraders.com | Skype: TLDtraders | +1 (475) BUY-NAME (289 – 6263). Thousands search by this site's exact keyword domain name! Most are sent here because search engines often love the keyword. This domain can be your 24/7 lead generator! If you own it, you could capture a large amount of online traffic for your niche. Stop wasting money on ads. Instead, buy this domain to gain a long-term marketing asset. If you can't afford to buy then you can rent the domain.
About Us
We are Internet Investors, Developers, and Franchisers – operating a content network of several thousand sites while federating 100+ eCommerce and SaaS startups. With our proprietary "inverted incubation" model, we leverage a portfolio of $100M in valued domains to impact online trends, traffic, and transactions. We use robotic process automation, machine learning, and other proprietary approaches to power our content network. Contact us to learn how we can help you with your online marketing and/or site maintenance.